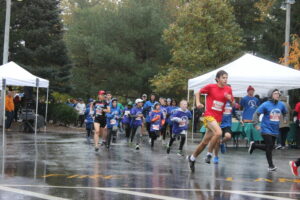 2022 Turkey Brigade

October 8, 2022
Race Starts at 7:45 am
30 Patriot Place, Foxborough, MA
On site registration begins at 7:45am
behind Bass Pro Shops (1 Bass Pro Drive, Foxboro).
Race starts at 8:30 AM.

Proceeds will go to the local food pantries, shelters, and other community organizations we've served through the Turkey Brigade in the past.
CHARITY FUNDRAISING: We offer students the option of using Go Fund Me to collect pledges and donations from family and friends in support of the Turkey Trot.  Your sponsors can donate directly to your fundraiser and you get the credit for the donation. When setting up your fundraiser, make sure to indicate that you are fundraising for a Charity; then select 'Personal Best Charity'. Your contributions will be sent directly to Personal Best. If you'd rather use envelops to collect sponsor donations, they are available to you at your karate school.